Additional Lessons
About These Lessons

The following classroom lessons are great for students who want additional listening and reading practice. Please post a comment at the bottom of this page in the

Facebook Comments

window with your thoughts about these lessons.
Travel America

-

Beginner Level

. Do you love America and American English? Learn before you travel. Facts and other cool stuff about your favorite U.S. state. Great English reading practice.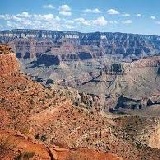 Travel America - New Mexico


(

Beginner

- Reading)

Learn some interesting facts and read interesting stories about New Mexico.
New Mexico



In 1540, the Spanish conquistador Coronado trekked through the area known today as New Mexico in search of the fabled seven cities of gold. New Mexico, called the "Land of Enchantment," was the 47th state, entering the Union in 1912. Part of the "Old West," New Mexico was a place known for cowboys and cattle drives. The influence of the Apache Indians who live there is evident in the artwork and culture. The Pueblo Indian presence is also very apparent, most visibly in the tribe's buildings. The state also has a large Hispanic population, as New Mexico was under Spanish control from the 16th century until about 1846. The capital city of Santa Fe, founded in 1610, has the oldest continually used seat of government in North America. The state flower is the yucca.
New Mexico State Flag




The colors on New Mexico's state flag are the red and yellow of old Spain. The simple, elegant center design is the ancient Zia sun symbol, which represents the unique character of New Mexico (Zia sun symbol also appears on New Mexico's state quarter).

The Zia Indians of New Mexico regard the Sun as sacred. Their symbol for the sun (a red circle with groups of rays pointing in four directions) is painted on ceremonial vases, drawn on the ground around campfires, and used to introduce newborns to the Sun.

Four is the sacred number of the Zia and is seen repeated in the four points radiating from the circle, each consisting of four bars. To the Zia Indians, the number four represents:

the four points of the compass (east, west, north, and south);
the four seasons of the year (spring, summer, autumn, and winter);
the four periods of each day (morning, noon, evening, and night);
the four seasons of life (childhood, youth, middle years, and old age);
the Zia's belief that with life comes four sacred obligations: one must develop a strong body, a clear mind, a pure spirit, and a devotion to the welfare of others.



Official salute to the flag of New Mexico



"I salute the flag of the state of New Mexico, the Zia symbol of perfect friendship among united cultures."
Source: State Symbols USA
New Mexico State Facts



Picture:

state seal of New Mexico
State Capital
Santa Fe
Nickname
Land of Enchantment
Motto
Crescit Eundo (It Grows As It Goes)
Statehood
January 6, 1912 (47th)
Origin of Name
Named by the Spanish for lands north of the Rio Grande River.
Largest Cities
Albuquerque, Las Cruces, Santa Fe, Rio Rancho, Roswell
Border States
Arizona, Colorado, Oklahoma, Texas, Utah
Area
121,359 sq. mi., 5th largest
State Bird
Roadrunner
State Flower
Yucca Flower (yucca glauca)
State Tree
Piñon (pinus edulis)
State Song
O, Fair New Mexico Asi es Nuevo Mejico
Travel and tourism site for New Mexico - This state travel and territorial tourism site provides ideas for your vacations, meetings, and more.
New Mexico Stories
The Spanish Market



Have you ever heard of bultos? The artist in this photograph poses with his bultos, -- brightly colored sculptures of saints or other religious figures. This artist is called an ultossantero (saint-maker) and is one of many at the Spanish Market in Santa Fe, New Mexico.

In 1926, the Spanish Colonial Arts Society started the Spanish Market for Hispanic artists to show and sell their traditional handmade objects. The Society began the Market to preserve and celebrate the Hispanic culture of New Mexico.

The artists of the Spanish Market work with many different kinds of materials. Some weave cloth on looms or punch designs into tin. Others make their own pottery or carve objects out of bone. The artist in this photograph poses with his bultos, which are brightly colored sculptures of saints or other religious figures. Local artists, called santeros (saint-makers), have carved and painted bultos for the past few hundred years. Today, they still carve the figures from the wood of trees that grow in New Mexico: cottonwood, cottonwood roots, aspen and pine. A santero carves a bulto with a knife and then covers it with gesso, a kind of paste, to prepare it for painting. Santeros still use paints from homemade pigments. For example, charcoal is used to make black paint. After a santero has finished painting, he applies a varnish to protect the bulto.
Taos Pueblo, New Mexico



Do you know what a pueblo (pronounced pway-blow) is?

It is an Indian community made up of a large cluster of buildings meant to house many families. Taos Pueblo is a Pueblo Indian community in New Mexico that is thought to be around 600 years old and is still used as a residence. The buildings' walls are made of adobe, or sun-dried mud brick, that is two-feet thick in some places. The roofs consist of cedar logs, mats, branches, grass, and adobe. The pueblo's residents originally entered the building through small, low doors or climbed down ladders through rooftop entrances. These entryways would have forced invaders to stoop or climb in order to enter the building. The entrances became less necessary as threat of invasion decreased, and today the pueblo has many more large doors and windows. Today visitors may come to see the dwellings and watch ceremonies in order to learn about traditional Pueblo Indian life.
Kodak Albuquerque International Balloon Fiesta



Aren't those colorful balloons in the photo a beautiful sight?

Every October, several hundred hot-air balloons fly through the air in the Kodak Albuquerque International Balloon Fiesta. More than a million people come to watch the event.

A balloon can fly in the air because hot air rises. To launch a hot-air balloon, the pilot first makes sure the basket is tied securely to the ground, so it doesn't suddenly fly off. Then the fabric of the balloon, or the envelope, is spread on the ground. A fan blows air into the envelope to help open it. As it opens, the pilot uses a propane (a kind of gas) burner to blow hot air into the envelope. The balloon then rises as it is inflated with the hot air until it is upright. When the pilot gives a signal, the basket is untied, and there is lift-off. The pilot uses the propane burner to control how high or low the balloon flies. To go up, he or she turns up the burner to make the air in the envelope hotter. To go down, the pilot just lets the air cool down.
Zozobra Festival



What is Zozobra? It's the Spanish word for "the gloomy one."

Every year in Santa Fe, New Mexico, the Kiwanis Club starts off the annual Fiestas de Santa Fe with the burning of Zozobra, an effigy of Old Man Gloom. An effigy is an image or figure that represents a person -- usually a disliked one. To the people of Santa Fe, Old Man Gloom represents the hardships and difficulties of the past year. They burn him in effigy to clear away the gloom and bring in a new, better year. The burning is a kind of ritual, or symbolic act.

Zozobra is a giant puppet made of sticks covered with chicken wire and muslin, a cotton fabric. He is stuffed with lots of shredded paper. Creating Zozobra every year is a big project, especially because he gets larger every year. In 1999, the effigy was 51 feet tall!

Zozobra waves his arms and growls as he is brought out to be burned. Dancers perform around him as the crowds yell for their bad luck -- and Zozobra -- to go away.
International UFO Museum and Research Center



Do you know about the incident reported at Roswell, New Mexico, in 1947?

Many people believe that aliens, or extraterrestrials, crash-landed near Roswell in July 1947. A rancher claimed that he found wreckage made of unusual metal that many think was from a flying saucer. The United States military collected the wreckage and at first announced that it was indeed from a flying saucer. However, soon after, military officials insisted a mistake had been made, and that the wreckage was from a weather balloon. For many people, the truth about the Roswell incident remains a mystery.

Anyone interested in UFOs and aliens would probably want to visit the International UFO Museum and Research Center, which was founded in 1991 in Roswell. UFO is an abbreviation for "unidentified flying object," which is an object in the air that cannot be easily explained. Over the years, many people say they have seen UFOs. However, the objects usually turn out to be things that can be explained, such as meteors, balloons, or even birds.

Do you believe in UFOs?
Expresiones Dance Company



New Mexican dance has many influences - even hip-hop.

The Expresiones Dance Company performs traditional dances and music from all over Mexico. The performers also include other dance styles found in New Mexico culture, such as hip-hop, Latin, and Azteca, an old Mexican dance with a religious flavor. The dance company has performed not just in New Mexico but all over the United States, including Texas, Colorado, Kentucky, and even Disney World's Epcot Center in Florida. The dancers have also appeared on national television.

New Mexico culture has been shaped by many different groups of people over the centuries. Indians such as the Navajo, Pueblo, Apache, and Ute, have lived there for thousands of years. Beginning in the 1500s, the Spanish explored and settled in the area. In the 1800s, New Mexico became a part of Mexico and then of the United States. Through their performances, the dancers of the Expresiones Dance Company help preserve this complex culture and tradition of New Mexico.
The Ralph Edwards Fiesta: How Hot Springs, New Mexico, Became Truth or Consequences



Can you guess how a town that used to be called Hot Springs got the unusual name of Truth or Consequences?

Ralph Edwards was the host of a radio show called "Truth or Consequences." It was the show's 10th anniversary in 1950, and he wanted to find a way to honor this event. So, Edwards offered to broadcast the show from any city that would change its name to Truth or Consequences. Some people in Hot Springs, in southwestern New Mexico, thought it was a good idea, so they held a special election and residents voted in favor of the name change.

On April 1, 1950, Ralph Edwards hosted his radio show, "Truth or Consequences" from Truth or Consequences, New Mexico. The town also held a big celebration. Every year since then, Edwards returned to Truth or Consequences to host the annual celebration, or fiesta, which is now named after him.
Source: Library of Congress

National Forests, Parks, and Monuments of New Mexico



The following is a description of national forests, parks, and monuments in the state of New Mexico. If you plan to visit or live in New Mexico for awhile then you should definitely plan to visit some of these fantastic places.
National Forests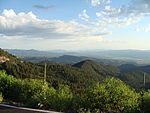 Apache-Sitgreaves



Encompassing the Mogollon Rim and White Mountains, this forest includes 34 lakes and over 680 miles (1,090 km) of rivers and streams, more than any other National Forest in the arid Southwest. This national forest is also partially located in the state of Arizona.
Carson



In the Sangre de Cristo Mountains, this forest has over 330 mi (530 km) of trails and Taos Ski Valley. The highest point in the forest is Wheeler Peak, also New Mexico's highest point, at 13,161 ft (4,011 m).
Cibola



Part of this National Forest are four wilderness areas, including the Sandia Mountain Wilderness east of Albuquerque. Elevations range from 5,000 ft (1,500 m) to 11,301 ft (3,445 m) at the summit of Mount Taylor, a stratovolcano in the San Mateo Mountains.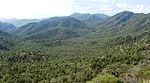 Coronado



Covering the sky islands of the Southwest, Coronado National Forest also includes Mount Wrightson and the birding destination of Madera Canyon. There are eight wilderness areas in the forest as well as observatories on Mount Hopkins and Mount Lemmon. This national forest is also partially located in the state of Arizona.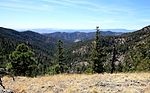 Gila



The forest's Gila Wilderness was the world's first wilderness area and was proclaimed on June 3, 1924. The Catwalk National Recreation Trail travels up a narrow canyon for 1.1 mi (1.8 km) while following Whitewater Creek.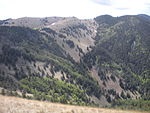 Lincoln



With portions of four mountain ranges, the Capitan, Guadalupe, Sacramento, and Sierra Blanca mountains, elevations range from 4,000 ft (1,200 m) to 11,500 ft (3,500 m) in Lincoln National Forest. The forest was the birthplace of Smokey Bear.
Santa Fe



Santa Fe National Forest's highest point is Truchas Peak at 13,103 ft (3,994 m) in the Pecos Wilderness. There are 1,002 mi (1,613 km) of trails in the forest, which includes the Valles Caldera National Preserve.
National Parks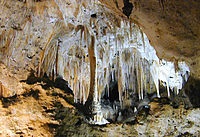 Carlsbad Caverns



Carlsbad Caverns has 117 caves, the longest of which is over 120 miles (190 km) long. The Big Room is almost 4,000 feet (1,200 m) long, and the caves are home to over 400,000 Mexican free-tailed bats and sixteen other species. Above ground are the Chihuahuan Desert and Rattlesnake Springs.
National Monuments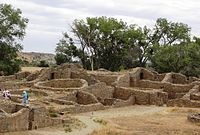 Aztec Ruins



The ruins contain Pueblo structures from the 11th to 13th centuries with more than 400 masonry rooms which were misidentified by early American settlers as Aztec. It has been included in the Chaco Culture World Heritage Site, which also includes Chaco Culture National Historical Park.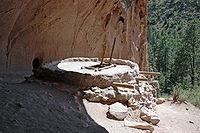 Bandelier



A historic district, Bandelier contains Frijoles Canyon, which contains Ancestral Pueblo homes, kivas, rock paintings and petroglyphs.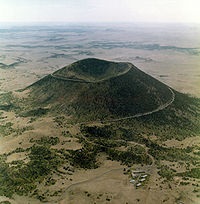 Capulin Volcano



Capulin is an extinct cinder cone volcano that is approximately 59,000 years old and part of the Raton-Clayton Volcanic Field. The crater is 400 feet (120 m) deep and its rim is more than 1,500 feet (460 m) in diameter.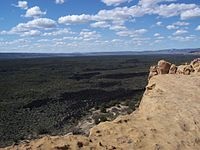 El Malpais



An extremely rough, rugged lava flow covers much of the park, filling a large basin rimmed by higher sandstone that forms large, wind-carved bluffs. It has lava tube caves that stretch over 17 miles (27 km) and the Cebolla Wilderness, a forested rimrock area that features prehistoric rock art and the Zuni-Acoma Trail, an ancient Pueblo trade route.
El Morro



On the site of an ancient east-west trail is a great sandstone promontory with a pool of water at its base. There are inscriptions from the 17th century as well as older petroglyphs made by the Ancestral Puebloans.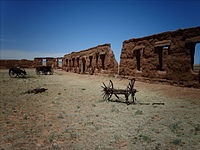 Fort Union



A frontier military post and supply depot in the late 19th century, it sat at the intersection of the Mountain and Cimarron Branches of the old Santa Fe Trail.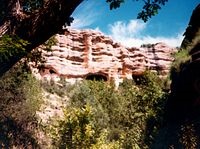 Gila Cliff Dwellings



Located within the Gila Wilderness, the people of the Mogollon culture lived in these cliff dwellings 180 feet (55 m) above the canyon floor from the 1280s through the early 14th century. They lived in five caves with 46 rooms. Henry B. Ailman discovered them in 1878.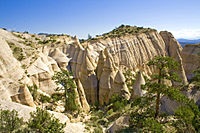 Kasha-Katuwe Tent Rocks



Kasha-Katuwe is known for its geology of layers of volcanic rock and ash deposited by a volcanic explosion. Over time, weathering and erosion of these layers has created canyons and tent rocks. The tent rocks themselves are cones of soft pumice and tuff beneath harder caprocks.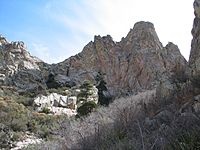 Organ Mountains-Desert Peaks



The protected area includes five mountain ranges that rise above the Chihuahua Desert: Robledo Mountains, Sierra de las Uvas, Doña Ana Mountains, Organ Mountains and Potrillo Mountains. There are approximately 870 vascular plant species, and the area is popular for hiking and climbing.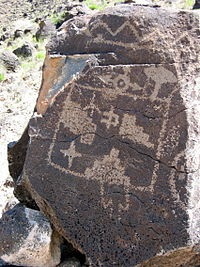 Petroglyph



This monument protects a variety of cultural and natural resources, including five volcanic cones, hundreds of archeological sites and an estimated 25,000 images carved by native peoples and early Spanish settlers. It lies on West Mesa, a volcanic basalt escarpment.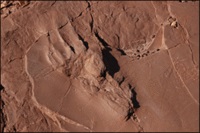 Prehistoric Trackways



Prehistoric Trackways contains fossilized footprints of numerous Paleozoic amphibians, reptiles, and insects, as well as fossilized plants and petrified wood dating back approximately 280 million years.
Río Grande del Norte



This site includes part of the Rio Grande Gorge and extinct volcanoes of the Taos Plateau volcanic field. There are a variety of archaeological and historical artifacts including petroglyphs and Hispanic settlement sites. It is home to an assortment of wildlife and recreation opportunities.
Salinas Pueblo Missions



Formerly known as Gran Quivira National Monument, it is where Native American trade communities of Tiwa- and Tompiro-speaking Puebloans lived when Spanish Franciscan missionaries made contact in the 17th century. What remains are the ruins of four mission churches, at Quarai, Abó, and Gran Quivira, and the partially excavated pueblo of Las Humanas.
White Sands



Located in the mountain-ringed Tularosa Basin valley area, White Sands consists of the southern part of a 275 square miles (710 km2) field of white sand dunes composed of gypsum crystals. It is completely within the White Sands Missile Range and is subject to closure when tests are conducted.
Travel America
Carlsbad Cavern National Park


(

Beginner

- Listening, reading)

A video lesson which shows you an interesting place in America.
The English is

spoken at 75% of normal speed

.
Great English listening and reading practice.
This video is all about Carlsbad Cavern National Park.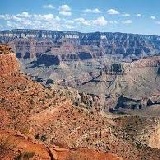 Travel America

Do you love America and American English? Learn before you travel. Facts and other cool stuff about your favorite U.S. state. Visit the Fun Easy English Travel America pages. Read about the beautiful National Forests, Parks, and Monuments. Great English reading practice.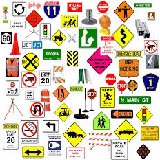 Drive America

Planning to drive in America? Learn the rules and regulations. Great English reading practice.