English language students, teachers, and friends,



Welcome to Fun Easy English. This is a totally free site where anyone from around the world can come to learn the English language.
Fun Easy English

means:



Fun

lessons that will hopefully keep you interested in learning English.


Easy

lessons to make sure you can learn English in the easiest way possible.


English

lessons in the English language, of course.

I began making Fun Easy English many years ago and since then it has grown to be one of the most popular English language sites online with students and teachers from all over The World using the information on these pages.

Hopefully you find these lessons useful and continue to come back to Fun Easy English for your English language studies.

Please tell your friends, other students, and your teachers about this site.

Thank you for visiting and see you again.



From YOUR English Teacher




Howie Hayman
About Learning English
John Kerry on English



Former secretary of state John Kerry talks about why learning English is so important.
About Learning English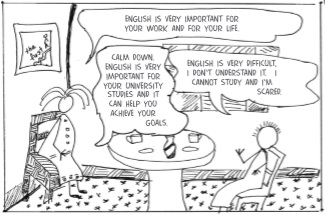 Comic About Learning English





Teacher:

English is very important for your work and for your life.



Student:

English is very difficult. I don't understand it. I cannot study and I'm scared.



Teacher:

Calm down. English is very important for your university studies and it can help you achieve your goals.
Daily Crossword
Crossword of the Day



This is a really nice way to learn new vocabulary. Follow the easy instructions and solve the puzzle.

The puzzle updates automatically every day.

Return tomorrow for a new vocabulary challenge

.



Instructions:



• Click in any of the white squares in the window above
• The squares for the word will become blue
• Type a letter in each of the blue squares to form a word
• Click "Reveal Letter" to get help for one square
• Click "Reveal Word" to get help for one word
• Click "Show Error" to show your mistakes
• Use a dictionary if you cannot understand a word
• Check again tomorrow for a new crossword