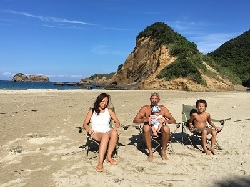 Us hanging out at Hamada Beach on Tanegashima Island, Japan.

Hi Everybody,



We are using these pages to home educate our kids.



I am hoping international students can use these pages too.

It is now

February 27, 2021

and I am working every day on these pages. I am adding many new topics and

pictures will be added to the pages soon

. Please check every day for updates and post a comment at the bottom of any page if you have any questions or suggestions.

Thanks.