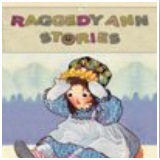 Raggedy Ann Stories



Raggedy Ann Stories, abridged and adapted from the original, contains 13 short stories about the classic rag doll and her friends. The text is accompanied by the original illustrations, a picture glossary, and questions to aid comprehension. The language has been simplified for high-beginning level English language learners (with vocabulary at the first 1000-word level) and is appropriate for young learners.
Raggedy Ann Stories

Audio Note:


The following stories contain audio programs.



Instructions:




1.

Click the story links in to open the written text in a new window


2.

Then click the

play button

on the audio player to listen to the audio version
Cool Stuff

Confused?



Found a word you do not know?


1.

Type

the word




2.

Click

Look it up

Top Hits



Listen to American music while you study.


1.

Click

The

► button




2.

Enjoy

some

great music

Resources



These links contain many English learning resources. Some are for students, some are for teachers. If you find information not on Fun Easy English, please post a comment below, and I will make every effort to add it to the site. Thanks.