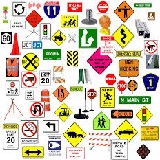 Recreational Destinations



Recreational and cultural interest area signs for destinations provide information about interesting places to visit in a designated area. Some of these places might be famous national monuments, while others are very small and typically known only to the local residents.
Viewing Areas

Viewing area.

Bear viewing area.

Deer viewing area.
Environmental Areas
Environmental study area.

Fish hatchery.
Points of Interest

Point of interest.

Dam.
Tunnel.

Lighthouse.
Lookout tower.
Cool Stuff

Confused?



Found a word you do not know?


1.

Type

the word




2.

Click

Look it up

Top Hits



Listen to American music while you study.


1.

Click

The

► button




2.

Enjoy

some

great music

Resources



These links contain many English learning resources. Some are for students, some are for teachers. If you find information not on Fun Easy English, please post a comment below, and I will make every effort to add it to the site. Thanks.