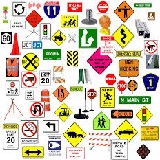 Recreational Facilities



Recreational and cultural interest area signs for

facilities

provide information about camping, picnicking, and other activities in a designated area. Camping is very popular in America but the rules and regulations at the campsites can be very strict. Be sure to follow the rules to avoid a possible fine, or even worse, getting your car taken away.
Camping and Picnicking

Tent camping.
Trailer camping.

Group camping.

Campfire.
Picnic area.

Group picnicking.

Picnic shelter.
Recreational Shelters and Lodging
Sleeping shelter.

Trail shelter.

Hiking and sleeping shelter to the left.

Lodging.
Entertainment Facilities

Playground.

Amphitheater.

Parking and amphitheater to the right.

Stable.
Cool Stuff

Confused?



Found a word you do not know?


1.

Type

the word




2.

Click

Look it up

Top Hits



Listen to American music while you study.


1.

Click

The

► button




2.

Enjoy

some

great music

Resources



These links contain many English learning resources. Some are for students, some are for teachers. If you find information not on Fun Easy English, please post a comment below, and I will make every effort to add it to the site. Thanks.