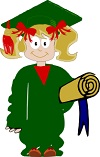 To be eligible to apply for a graduate level program, you should have completed, or be about to complete, a first academic or professional degree. In the United States this typically takes four years of university study to complete, giving U.S. students 16 years in total at school and university. If your first academic degree required only three years of study, or if you have completed only 14 or 15 years of school and university study combined, or if your degree study involved courses in only a single technical field, check with an educational adviser about whether you will be eligible for admission to graduate degree programs in the United States. Note that although all U.S. universities follow the same general guidelines, they may differ in the level at which they recognize a particular degree from your country.

Graduate school applicants should also have excellent grades, particularly in the chosen field of study. Most graduate departments require, at a minimum, the equivalent of a U.S. "B" grade average in undergraduate work. Staff at EducationUSA information and advising centers will be able to tell you the equivalent to this grade average in your own educational system. Proven research ability or relevant work experience also increases your chances of admission at the graduate level.
Cool Stuff

Confused?



Found a word you do not know?


1.

Type

the word




2.

Click

Look it up

Top Hits



Listen to American music while you study.


1.

Click

The

► button




2.

Enjoy

some

great music

Resources



These links contain many English learning resources. Some are for students, some are for teachers. If you find information not on Fun Easy English, please post a comment below, and I will make every effort to add it to the site. Thanks.