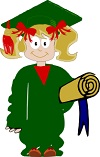 Most U.S. universities expect international students to have a secondary school diploma or secondary school examination results that would enable them to attend a university in their home country. This is particularly true of the most competitive universities, which look for students with high grades (among other things). However, remember that there is a wide range of admission standards and acceptance rates among U.S. universities and colleges. Since the U.S. system of education places great emphasis on breadth of knowledge, it is also important that your secondary school study has included a variety of subjects such as English, mathematics, natural sciences (physics, chemistry, and/or biology), humanities or social sciences (history, geography, economics, politics, or similar subjects), and a foreign language. Lastly, universities will not usually accept international students who are younger than age 17.
Cool Stuff

Confused?



Found a word you do not know?


1.

Type

the word




2.

Click

Look it up

Top Hits



Listen to American music while you study.


1.

Click

The

► button




2.

Enjoy

some

great music

Resources



These links contain many English learning resources. Some are for students, some are for teachers. If you find information not on Fun Easy English, please post a comment below, and I will make every effort to add it to the site. Thanks.