Grammar:



Definition of an

attributive adjective

.
Examples
Angelina Jolie is a beautiful woman.
Brad Pitt is a handsome man.
That is a large tree.
This is a delicious piece of sushi.
Fun Easy English Grammar Lessons
Video: Grammar
Video: Grammar
More Videos

From YOUR Teacher:



These adjectives are basically used to describe something.
Additional Lessons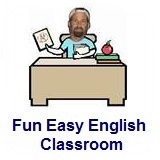 About These Lessons

The following classroom lessons are great for students who want additional listening and reading practice. Please post a comment at the bottom of this page in the

Facebook Comments

window with your thoughts about these lessons.
Travel America

-

Beginner Level

. Do you love America and American English? Learn before you travel. Facts and other cool stuff about your favorite U.S. state. Great English reading practice.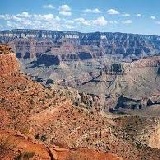 Travel America - Idaho


(

Beginner

- Reading)

Learn some interesting facts and read interesting stories about Idaho.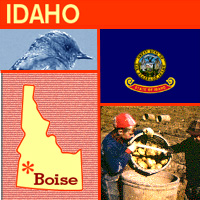 Idaho



Idaho, the 43rd state, joined the U.S. in 1890. The state is appropriately shaped like a logger's boot, and logging as well as mining are big industries in the state. But the state is probably best known for its potatoes. The state's name is thought to be an Indian name, Ee-dah-hoe, which means "gem of the mountains." Idaho has a rugged landscape with some of the largest unspoiled natural areas in the country. Boise is the capital and the state flower is the syringa.
Idaho State Flag




The State Flag of Idaho was adopted in 1907.

The dimensions of the state flag were described specifically by Idaho legislature: "5' 6" wide, 4' 4" deep, bordered by a gilt fringe that is 2.5 inches wide. The flag is to be blue silk with the state seal of Idaho 21" diameter displayed in the center. Under the great seal, the words "State of Idaho" are to be embroidered in gold block letters two inches high on a red band that is 3" wide X 29" length, positioned about 8.5"above and parallel with lower fringe."

The state seal image on the flag is a general representation, not as detailed as Idaho's official great seal. Idaho has the only state seal designed by a woman. Emma Edwards Green designed the original great seal, which was adopted by the first legislature of Idaho in 1891. Her painting is held in trust by the Idaho Historical Society - it is rich with Idaho symbols.
Source: State Symbols USA
Idaho State Facts



Picture:

state seal of Idaho
State Capital
Boise
Nickname
Gem State
Motto
Esto perpetua (Let it be perpetual)
Statehood
July 3, 1890 (43th)
Origin of Name
A derivation of an Indian phrase "E Dah Hoe (How)" supposedly meaning "gem of the mountains"
Largest Cities
Boise
Border States
Montana, Nevada, Oregon, Utah, Washington, Wyoming
Area
82,751 sq. mi., 11th largest
State Bird
Mountain Bluebird
State Flower
Syringa - Mock Orange (philadelphus lewisii)
State Tree
White Pine (Pinus Monticola pinaceae)
State Song
Here We Have Idaho
Travel and tourism site for Idaho - This state travel and territorial tourism site provides ideas for your vacations, meetings, and more.
Idaho Stories
Idaho's Natural Wonders



A gorge is a narrow, steep-walled canyon. And the deepest gorge in North America is in Idaho. Do you know about it?

Idaho is well known for its natural beauty and rugged landscape. The state's Sawtooth Mountains are a part of the Rocky Mountains, and several peaks in these mountains exceed an elevation of 10,000 feet. Another of Idaho's natural wonders is the Snake River. This river flows in a great arc and has created extensive valleys throughout its run.

The Snake River has also made gorges, such as Hell's Canyon, which, at 7,900 feet, is North America's deepest gorge. Various wildlife inhabit the rugged landscape of Idaho, including elk, bighorn sheep, mountain goats, moose, black bear, cougar, and antelope. Smaller animals include beaver, river otter, red-tailed hawks, and golden and bald eagles. Do you know how the canyon got its name?

If you guessed that the name refers to the canyon's depth, you were wrong. The name comes from the fact that a wild journey is in store for any boat that travels the river!
Idaho -- Land of Contrasts



Have you ever heard of a mountain growing right before your eyes? That's what happened on October, 28, 1983, when Borah Peak, the highest mountain in Idaho, grew about eight inches higher in two minutes. Around the same time, the valley floor along 26 miles of the Lost River Range suddenly lowered 10 feet. Can you guess how this happened?

It was an earthquake that caused these drastic changes. Idaho is a state of dramatic geographic contrasts. It is a geologically active region that includes glaciers, volcanoes and earthquakes, all of which have produced a spectacular but harsh landscape.

Glaciers move very slowly and grind away at mountains. The Otto Glacier is the only remaining glacier in Idaho. Only a small remnant of what it used to be exists on the north slope of Borah Peak. It and other glaciers have created more than 500 cirques (French for "circle") in the high mountains of Idaho. A cirque is formed when glacial erosion removes big blocks of rock from mountains, resulting in a circle surrounded by mountains. Shallow cirques appear as wet meadows today, while the deeper ones with bowl-shaped floors may contain lakes.
Source: Library of Congress

National Forests, Parks, and Monuments of Idaho



The following is a description of national forests, parks, and monuments in the state of Idaho. If you plan to visit or live in Idaho for awhile then you should definitely plan to visit some of these fantastic places.
National Forests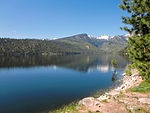 Bitterroot



Bitterroot National Forest is located in the Bitterroot and Sapphire mountains, reaching its highest point at 10,157 ft (3,096 m) at Trapper Peak. The forest is named for the bitterroot plant. This national forest is also partially located in the state of Montana.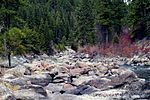 Boise



Portions of the Boise, Payette, and South and Middle Forks of the Salmon River drainages make up the forest. There are over 7,600 mi (12,200 km) of streams and more than 250 lakes and reservoirs in the forest.
Caribou-Targhee



The forest's Jedediah Smith Wilderness has many caves and the Winegar Hole Wilderness protects grizzly bear habitat in the Greater Yellowstone ecosystem. The Upper and Lower Mesa Falls are on Henrys Fork of the Snake River and tours of Minnetonka Cave are available. This national forest is also partially located in the state of Wyoming.
Clearwater



The forest covers the Bitterroot Mountains and Palouse Prairie as well as the Clearwater and Lochsa rivers. The Lewis and Clark Expedition followed the Lolo Trail through the forest in 1805, and gold miners came to the forest in the 1860s.
Idaho Panhandle



There are two wilderness areas, Cabinet Mountains and Salmo-Priest, and numerous recreation opportunities in Idaho Panhandle National Forest. This forest ranges from the Canada–US border to the Saint Joe River, which is the highest navigable river in the world. This national forest is also partially located in the states of Montana and Washington.
Kootenai



Kootenai includes the Cabinet Mountains and the Kootenai and Clark Fork rivers. The Noxon and Cabinet Gorge reservoirs are on the Clark Fork within the forest. The Northwest Peak Scenic Area is in the Selkirk Mountains. This national forest is also partially located in the state of Montana.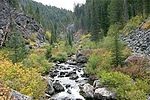 Nez Perce



Nez Perce National Forest includes parts of four wilderness areas: Frank Church-River of No Return, Gospel Hump, Hells Canyon, and Selway-Bietterroot. This forest is managed together with Clearwater National Forest.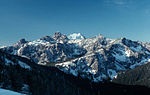 Payette



Payette National Forest includes the Seven Devils Mountains and part of the Frank Church—River of No Return Wilderness. It also borders Hells Canyon to the west and contains the Brundage Mountain ski area.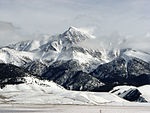 Salmon-Challis



Salmon-Challis National Forest includes parts of both the Salmon River and the Frank Church—River of No Return Wilderness. Idaho's highest point, Borah Peak at 12,662 ft (3,859 m), is located in the Lost River Range in the forest.
Sawtooth



Sawtooth National Forest includes over 1,100 lakes, 1,000 mi (1,600 km) of trails and roads, and ten mountain ranges, with the highest point at 12,009 ft (3,660 m) on Hyndman Peak. The forest includes Sawtooth National Recreation Area, the Sawtooth Range, Sawtooth Wilderness, four ski areas, and four endemic species, being found nowhere else in the world. This national forest is also partially located in the state of Utah.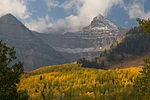 Uinta-Wasatch-Cache



There are nine wilderness areas in the forest, which occupies part of the Wasatch and Uinta mountains. Mount Nebo and Mount Timpanogos are located in wilderness areas at the edge of the Wasatch Front. This national forest is also partially located in the states of Utah and Wyoming.
Wallowa-Whitman



Wallowa-Whitman National Forest stretches from the Blue Mountains to the Snake River. Elevations range from 875 ft (267 m) in Hells Canyon, the deepest gorge in North America, to 9,845 ft (3,001 m) at the summit of Sacajawea Peak in the Eagle Cap Wilderness Area. This national forest is also partially located in the state of Oregon.
National Parks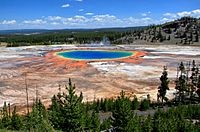 Yellowstone



Situated on the Yellowstone Caldera, the park has an expansive network of geothermal areas including boiling mud pots, vividly colored hot springs such as Grand Prismatic Spring, and regularly erupting geysers, the best-known being Old Faithful. The yellow-hued Grand Canyon of the Yellowstone River contains several high waterfalls, and four mountain ranges traverse the park. More than 60 mammal species including gray wolves, grizzly bears, black bears, lynxes, bison, and elk, make this park one of the best wildlife viewing spots in the country. This national park is also partially located in the states of Montana and Wyoming.
National Monuments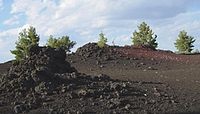 Craters of the Moon



One of the best preserved flood basalt areas in the continental U.S. contains three lava fields along the Great Rift of Idaho as well as the world's deepest open rift cracks and other volcanic features.
Hagerman Fossil Beds



This monument contains the largest concentration of Hagerman horse fossils in North America. It protects the world's richest known fossil deposits from the late Pliocene epoch, 3.5 million years ago. These plants and animals represent the last glimpse of time that existed before the Ice Age, and the earliest appearances of modern flora and fauna.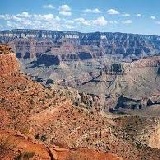 Travel America

Do you love America and American English? Learn before you travel. Facts and other cool stuff about your favorite U.S. state. Visit the Fun Easy English Travel America pages. Read about the beautiful National Forests, Parks, and Monuments. Great English reading practice.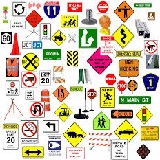 Drive America

Planning to drive in America? Learn the rules and regulations. Great English reading practice.
Additional Information
Study Tips


(

Beginner

- Listening)

Avoid Ineffective Study Methods. An audio lesson to help you study English more effectively. The English is

spoken at 75% of normal speed

. Great English study tips.
Click here to visit the lesson page with the written script for this audio program.
Cool Stuff

Confused?



Found a word you do not know?


1.

Type

the word




2.

Click

Look it up

Top Hits



Listen to American music while you study.


1.

Click

The

► button




2.

Enjoy

some

great music

Resources



These links contain many English learning resources. Some are for students, some are for teachers. If you find information not on Fun Easy English, please post a comment below, and I will make every effort to add it to the site. Thanks.