Reductions: "whajya"



American English reductions are reduced forms of English words.
This American English reduction is formed when you combine and reduce the following words.

whajya

= what + did + you
This American English reduction is used in the following way.

Whajya

do today?
This American English reduction has the following meaning.

What did you

do today?
"

whajya

"
Whajya

think of the football game today?
(

Meaning:

What did you think of the football game today?)

Whajya

do yesterday?
(

Meaning:

What did you do yesterday?)

Whajya

eat for lunch?
(

Meaning:

What did you eat for lunch?)

Whajya

find on the beach today?
(

Meaning:

What did you find on the beach today?)

Whajya

think of the food at this restaurant?
(

Meaning:

What did you think of the food at this restaurant?)
Fun Easy English Reductions Lessons

From YOUR Teacher:



Whajya is an American English reduction often used in casual conversations.

Note: Reductions
Remember the following:
Reductions are reduced forms of English words.
Reductions, such as

whajya

are not real words in English.
You need to use reductions in order to sound more natural.
You need to know reductions in order to understand conversations between native English speakers.
Reductions are used extensively in American TV, movies, music, literature, and in conversations among native English speakers.
Additional Lessons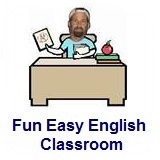 About These Lessons

The following classroom lessons are great for students who want additional listening and reading practice. Please post a comment at the bottom of this page in the

Facebook Comments

window with your thoughts about these lessons.
Travel America

-

Beginner Level

. Do you love America and American English? Learn before you travel. Facts and other cool stuff about your favorite U.S. state. Great English reading practice.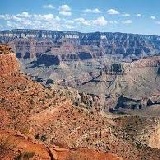 Travel America - Hawaii


(

Beginner

- Reading)

Learn some interesting facts and read interesting stories about Hawaii.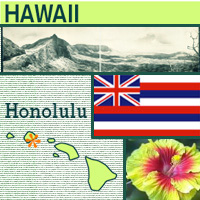 Hawaii



Known as the "Aloha State" (in Hawaiian, "aloha" can mean "hello"), Hawaii is a group of volcanic islands in the central Pacific Ocean that together became the 50th state in 1959. The state's name is possibly derived from a native Hawaiian word for homeland, hawaiki or owhyhee. Today, Hawaii, whose capital is Honolulu, is often called the "Crossroads of the Pacific" and is a popular vacation spot. The colorful hibiscus is the state flower.
Hawaii State Flag




The flag of Hawai'i resembles the Union Jack of Great Britain because many of King Kamehameha's advisors were British and the islands were once placed under England's protection.

Eight horizontal stripes represent the eight major islands of Hawai'i. This flag has served as the flag of the kingdom, republic, territory, and the state of Hawai'i.
Source: State Symbols USA
Hawaii State Facts



Picture:

state seal of Hawaii
State Capital
Honolulu
Nickname
Aloha State / Paradise of the Pacific
Motto
Ua mau ke ea o ka aina I ka pono (The life of the land is perpetuated in righteousness.)
Statehood
August 21, 1959 (50th)
Origin of Name
Possibly based on native Hawaiian word for homeland, "Owhyhee."
Largest Cities
Honolulu, Hilo, Kailua, Kaneohe, Pearl City
Border States
None
Area
6,423 sq. mi.; 47th largest
State Bird
Nene (Hawaiian goose)
State Flower
Pua Aloalo (hibiscus brackenridgei)
State Tree
Kukui - Candlenut (aleurites moluccana)
State Song
Hawaii Ponoi - Hawaii's Own
Travel and tourism site for Hawaii - This state travel and territorial tourism site provides ideas for your vacations, meetings, and more.
Hawaii Stories
King Kamehameha Celebration



Did you know that a long line of monarchs once ruled Hawaii? King Kamehameha I was one member of this royal line. He was born in North Kohala on the island of Hawaii, and it's estimated that he was born between 1748 and 1761. His childhood was spent in seclusion with foster parents who trained him in the skills of warfare and prepared him for his role as warrior-king of the island nation.

Although Kamehameha lived at the same time as Napoleon and George Washington, they were very different kinds of rulers, mainly because of how different their cultures were. During King Kamehameha I's reign, there was no written language, and the Polynesian religion that was practiced was called Hoomana. This religion was based on a group of gods similar to those of the Romans and Greeks.

Kamehameha I was a very successful king and ruled in peace. He accomplished a great deal by establishing trade with foreign countries, introducing new animal and plant life, and promoting agriculture and industry.

King Kamehameha I died in 1819. Today, every June 11, the giant statue of King Kamehameha shown here is decorated and festivities include parades on every island, arts and crafts fairs, sports challenges, pageantry, and an international hula competition.
Okinawan Festival



Can you guess where this young Taiko performer might get some andagi, ashitibichi, and yaki soba?

If you guessed Japan, you're close! Many Japanese people (over 125,000) moved from Japan to Hawaii in search of a better life. They, along with other Asian immigrants, were often employed to work on sugar plantations. Today, there is a strong Japanese culture in Hawaii and it is celebrated with the Okinawan Festival. So, if you're eating andagi you're eating deep-fried doughnuts, if you're eating ashitibichi, you're eating pig's feet soup, and if you're eating yaki soba you're eating noodles stir-fried with vegetables and meat. These are all delicious Okinawan-style dishes that you can try at the festival held each year at Kapiolani Park in the middle of Waikiki.

Along with traditional Okinawan dishes, visitors can experience all kinds of traditional Okinawan culture and arts. The festival includes a parade with a paranku procession. A paranku is a small hand-held drum used in folk performing art called eisa. Other traditional Okinawan musical instruments include the taiko (drum), sanshin (lute) and the koto (zither). Have you ever seen any of these instruments? There is also the Obon, a dance performed by large groups of men, women and children of all ages.
Hawaiian Canoe



Have you ever been in a canoe? Can you imagine traveling across the ocean in one? When Captain James Cook asked, "How shall we account for this nation having spread itself to so many detached islands so widely disjoined from each other in every quarter of the Pacific Ocean?" as early as the 18th century, he was wondering specifically about the Polynesian people. How did they get to so many islands spread so far apart? Perhaps the answer lies in the Hawaiian canoe.

Canoes served several purposes for early Hawaiians. Can you guess what some of them might be? Smaller canoes were used for traveling around the islands, while larger canoes were used for long-distance traveling or warfare. Fishing was also done from canoes. And, just like today, canoes were used for sports and recreation.

Hawaiian canoes were made of acacia koa, a tree that is now very scarce. Canoes were historically built by master craftsmen who oversaw all aspects of the process, from selecting the trees to getting the boat into the water. Lashing, or binding, of the pieces of wood was done with coconut or vegetable fiber.
Ching Ming Tradition in Hawaii



How do you honor your ancestors? If you were Chinese, you might celebrate Ching Ming.

Dating back 3,000 years, the practice of Ching Ming is still observed worldwide by Chinese families. Ching means "pure" or "clean"; ming means "brightness." The words together are applied to a Chinese tradition that helps explain why respect for elders is such an important part of the Chinese culture. Many Chinese believe that a person's good fortune or misfortune comes from his or her ancestors; that all departed ancestors still have the same physical needs they had when alive; and that the departed can assist their relatives on Earth.

Today, Ching Ming is celebrated every April 4 in Hawaii and involves the cleaning, repairing and replanting of ancestral gravesites. In Hawaii, the practice has a stronger presence than in other parts of the United States. Ceremonies involve preparing foods as a symbol of earthly possessions and laying them out on the grave. These foods may include fruit, rice, chicken, pork, cakes and tea. A meal may be eaten at the gravesite as a gesture of sharing with deceased relatives. Other customs include burning incense, offering prayers and burning symbolic paper. It is not necessarily a time of sadness, but one of reflection, remembrance and communion with past generations.
Portuguese Holy Ghost Festival and Traditional Practices



Portuguese immigrants first came to Hawaii in the late 1800s to work in the sugar cane fields. They brought their culture with them, and since 1901, the Feast of the Holy Ghost has been celebrated in Hawaii. This feast originated centuries ago with the sixth Queen of Portugal, Isabel. It is a Catholic celebration that proclaims the faith of the Portuguese and their devotion to the Holy Ghost, the member of the Holy Trinity now referred to as the Holy Spirit.

For each of the seven Saturdays leading up to the feast, known as Domingas, a different historical or religious figure is honored. The highlight of the entire event is a three-day festival that begins on the Friday night just before the Seventh Dominga, the "Blessing of the Meat and Bread," in which a portion of beef and bread -- the "Pensao" -- is blessed by a priest and distributed to each member present. Following the tradition of charity and feeding the poor, a bowl of soup or stew is served to everyone. On Saturday night, participants decorate religious statues in preparation for the Sunday Mass. A woman is chosen to represent Queen Isabel, and she and her court join a procession. At the end of the Mass, the priest crowns the Holy Ghost Queen.
Prince Lot Hula Festival



Did you know that you can tell stories with a dance? That's what the kids in the photo are doing when they do the hula, a traditional dance of Hawaii. The hula combines flowing movement with facial expressions, all set to special chants and music. When hula began it was a form of worship.

Prince Lot Kapu`aiwa kept the hula alive in Hawaii at a time when interest in it was fading. Can you guess how he did it? The prince, who later became Kamehameha V, King of Hawaii from 1863 to 1872, was noted for his energy and strength of will. One of his interests was to promote and preserve Hawaiian culture, especially the hula. He did this by holding hula performances at his cottage in Moanalua. To many, the hula represents Hawaiians' view of the world.

In appreciation of Prince Lot's efforts to preserve Hawaiian culture, the Prince Lot Hula Festival was established in 1978. Each year na halau (hula schools) come to the festival to perform at Moanalua Gardens in Honolulu. This festival also includes other Hawaiian activities and exhibits such as hand-stitched quilts, leaf-weaving demonstrations to make hats and baskets, instrument-making and lei-making (a lei is a necklace of flowers).
Even Royalty Surfs in Hawaii



Did you know that in Hawaii's early days, when it was ruled by royalty, even kings and queens surfed?

Surfing is considered part of modern American pop culture, but the sport actually developed centuries ago in Polynesia in the Pacific Ocean. It was later brought to Hawaii in the eighth century. Petroglyphs (rock paintings) have been found in Hawaii that show early Hawaiians riding the waves. British explorer Captain James Cook made the first mention of surfing in print in his account of his journey through the Pacific Ocean. Even the early kings and queens of Hawaii participated in the sport. American writers Mark Twain and Jack London are known to have tried surfing. Duke Kahanamoku, who was born in Hawaii, was a gold medalist in swimming at the 1912 Olympic Games. He is commonly credited with the rise in popularity of surfing in the 20th century.
Source: Library of Congress

National Parks and Monuments of Hawaii



The following is a description of national parks and monuments in the state of Hawaii. There are no national forests in this state. If you plan to visit or live in Hawaii for awhile then you should definitely plan to visit some of these fantastic places.
National Parks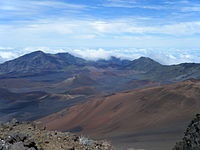 Haleakalā



The Haleakalā volcano on Maui features a very large crater with numerous cinder cones, Hosmer's Grove of alien trees, the Kipahulu section's scenic pools of freshwater fish, and the native Hawaiian goose. The park protects the greatest number of endangered species within a U.S. National Park.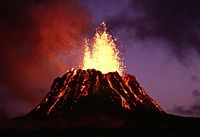 Hawaiʻi Volcanoes



This park on the Big Island protects the Kīlauea and Mauna Loa volcanoes, two of the world's most active geological features. Diverse ecosystems range from tropical forests at sea level to barren lava beds at more than 13,000 feet (4,000 m).
National Monuments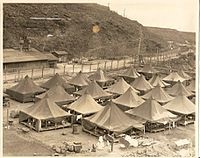 Honouliuli



Comprises the grounds of the Honouliuli Internment Camp on the island of Oahu. It was the largest and longest-operating facility used for Japanese American internment in the United States.
Papahānaumokuākea Marine



The marine monument consists of ocean waters and 10 islands and atolls of the Northwestern Hawaiian Islands including Midway Atoll (which is the site of the Midway Atoll National Wildlife Refuge). The monument was created in 2006 with 139,797 square miles (362,070 km2), and its boundaries were expanded on August 26, 2016, more than quadrupling in size to a total area of 582,578 square miles (1,508,870 km2). It is the largest protected area on Earth, and is almost the size of the Gulf of Mexico. The Northwestern Hawaiian Islands archipelago "is the planet's largest seabird gathering site, with more than 14 million birds from 22 species, and is home to nearly all Laysan albatrosses and the remaining endangered Hawaiian monk seals." It was declared a World Heritage Site in 2010.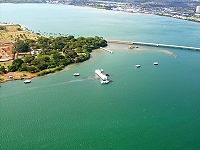 World War II Valor in the Pacific



Valor in the Pacific encompasses nine sites in three states associated with World War II: The Attack on Pearl Harbor, including the USS Arizona, Utah, and Oklahoma memorials in Hawaii; the Aleutian Islands Campaign on Attu Island, Kiska Island, and Atka Island in Alaska; and the Japanese American internment at Tule Lake War Relocation Center in California. This national monument is also partially located in the state of Alaska and California.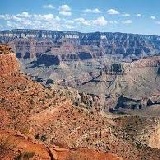 Travel America

Do you love America and American English? Learn before you travel. Facts and other cool stuff about your favorite U.S. state. Visit the Fun Easy English Travel America pages. Read about the beautiful National Forests, Parks, and Monuments. Great English reading practice.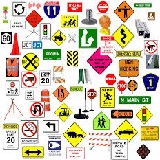 Drive America

Planning to drive in America? Learn the rules and regulations. Great English reading practice.
Additional Information
Study Tips


(

Beginner

- Listening)

Avoid Ineffective Study Methods. An audio lesson to help you study English more effectively. The English is

spoken at 75% of normal speed

. Great English study tips.
Click here to visit the lesson page with the written script for this audio program.
Cool Stuff

Confused?



Found a word you do not know?


1.

Type

the word




2.

Click

Look it up

Top Hits



Listen to American music while you study.


1.

Click

The

► button




2.

Enjoy

some

great music

Resources



These links contain many English learning resources. Some are for students, some are for teachers. If you find information not on Fun Easy English, please post a comment below, and I will make every effort to add it to the site. Thanks.