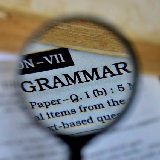 Grammar:

Definition of a

concrete noun

.
A concrete noun:
is a word used to describe tangible objects such as: a person, place, thing, object, or substance
is a word that can be perceived through the five physical senses of: hearing, seeing, smelling, tasting and touching
is the opposite of an abstract noun
A concrete noun is either:
The apple was red and delicious.
The dog appears to be happy.
Moose can be found in Canada.
Your shoes really stink.
They went to the beach.
We bought the house.
She needs to buy a notebook.
You should read this book.

From YOUR Teacher:



Hey really not much to say about concrete nouns. Pretty simple lesson today.
Additional Information
Study Tips


(

Beginner

- Listening)

Avoid Ineffective Study Methods. An audio lesson to help you study English more effectively. The English is

spoken at 75% of normal speed

. Great English study tips.
Click here to visit the lesson page with the written script for this audio program.
Cool Stuff

Confused?



Found a word in Fun Easy English you do not know?


1.

Type

the word

in the Online Reference window


2.

Click

Look it up

(opens to a new window)

Top Hits



Listen to American music while you study.


1.

Click

The

► button




2.

Enjoy

some

great music

Resources



These links contain many English learning resources. Some are for students, some are for teachers. If you find information not on Fun Easy English, please post a comment below, and I will make every effort to add it to the site. Thanks.