Classroom
Today

American English
pronunciation
lesson 1



Today in the Fun Easy English classroom you are going to study pronunciation lesson 1. Your road to perfect pronunciation begins today. You are going to learn to pronounce the sound

ee

as in the words h

ee

l, k

ey

, p

ie

ce, s

ea

t. Remember "practice makes perfect" if you want to improve your English speaking ability.

Hey if you cannot understand something on this page,


then use the Fun Easy English dictionary (opens in a new window)
Jan Feb Mar Apr May Jun Jul Aug Sep Oct Nov Dec
1 2 3 4 5 6 7 8 9 10 11 12 13 14 15 16 17 18 19 20 21 22 23 24 25 26 27 28 29 30 31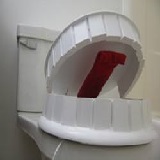 Pronunciation: American English Lesson 1

Pronounce the sound

ee

as in the following words h

ee

l, k

ey

, p

ie

ce, s

ea

t. Watch the following pronunciation videos and learn to pronounce this sound correctly.
Video: American English Pronunciation Lesson 1
Spelling
e
b

e

, compl

e

te
ea
b

ea

n, ch

ea

p,

ea

t, m

ea

t, s

ea

t
ee
h

ee

l, qu

ee

n, s

ee

d, tr

ee

ei
rec

ei

ve
eo
p

eo

ple
ey
k

ey

i
mach

i

ne, pol

i

ce
ie
f

ie

ld, p

ie

ce
y
laz

y

Note:

the red letters all have the same sound
Sound: Voiced and Unvoiced



This is a VOICED sound which means Your Vocal Cords DO vibrate when making this sound.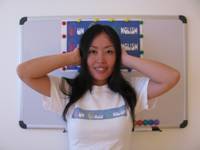 You CAN LISTEN to your Vocal Cords vibrating if you cover your ears with your hands.

Try covering your ears with your hands as Akiko is doing in the picture.

Now make the sound of this lesson. Can you listen to your vocal cords vibrating?
VERY GOOD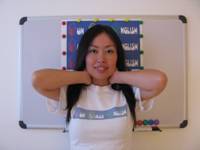 You CAN FEEL your Vocal Cords vibrating if you place your hands on your neck.

Try placing your hands on your neck as Akiko is doing in the picture.

Now make the sound of this lesson. Can you feel your vocal cords vibrating?
VERY GOOD
The following diagram shows the most important parts of your head and mouth used for pronouncing the sounds of English. It also shows the location of your Vocal Cords.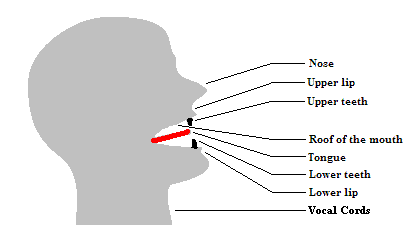 Mouth, lips, and tongue

The following descriptions explain the proper mouth, lips, and tongue position when you make this sound.


Your mouth should be slightly tense.


Your lips should be unrounded and in the same position as when you smile.


The front part of your tongue should be in the center part of your mouth.
Practice video



Listen to the video and practice repeating each word.
Pronunciation practice words



Look at your mouth in a mirror and practice pronouncing the following words. Make sure your mouth, lips, and tongue are in their proper positions.
compl

e

te
ch

ea

p
qu

ee

n
rec

ei

ve
p

eo

ple
k

ey

mach

i

ne
f

ie

ld
laz

y

ea

t
tr

ee

p

ie

ce

Note:

the red letters all have the same sound (watch the video above)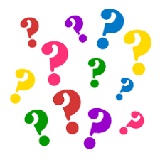 Test: Pronunciation word test

Choose the correct letter or letters to complete each of the following words.
1. compl_te
2. ch_ _p
3. qu_ _n
4. rec_ _ve
5. p_ _ple
6. k_ _
7. mach_ne
8. f_ _ld
9. laz_
10. tr_ _

Note:

the letter or letters needed to complete each word all have the same sound.

From YOUR Teacher:

Almost 2 Weeks Now



Hey I wanted to tell all of you nice work. For almost 2 weeks now you have been studying English in the Fun Easy English classroom. Hopefully you are enjoying these lessons and learning a lot.
Additional Lessons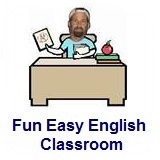 About These Lessons

The following classroom lessons are great for students who want additional conversation, listening, and reading practice. Please post a comment at the bottom of this page in the

Facebook Comments

window with your thoughts about these lessons.
Learning English



(

Beginner

- Listening)



January 12, 2019

- A 30 minute audio broadcast of recent world news. The English is

spoken at 75% of normal speed

. Great listening practice.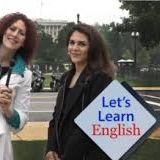 Conversation Lesson 12 - Meet My Family
(

Beginner

- Conversation, Listening, Reading)

In this lesson Anna is feeling homesick. Marsha helps her by listening to her talk about her family.
Lesson Video



Watch the video and then do the activities on this page.
Video Script



Anna: Hello! Washington, D.C. has many beautiful parks. In fact, this park reminds me of my home very far away.
Marsha: Anna, here's your coffee.
Anna: Thanks, Marsha.
Marsha: What's wrong?
Anna: I'm thinking about my family. I'm feeling homesick.
Marsha: Do you want to talk about it?
Anna: Sure! I have some photos.
Marsha: Yes. Yes, you do!
Anna: Photos really help.
Anna: This is my mother and this is my father. They are rodeo clowns.
Marsha: What do rodeo clowns do?
Anna: They make jokes at a rodeo. They make people laugh.
Marsha: That-That';s very different.
Marsha: Who is that woman in the picture?
Anna: That is my Aunt Lavender. She is my mom's sister. She loves gardening and makes spoons.
Marsha: She makes spoons?
Anna: Of course.
Marsha: That, too, is very different.
Anna: Oh! This is my Uncle John. He is my father's brother.
Marsha: What does Uncle John do?
Anna: He's a chicken farmer. And makes guitars. He's awesome, and I'm his favorite niece.
Marsha: Who are they?
Anna: They are my cousins. They are my Uncle John's daughter and son.
Marsha: What do they do?
Anna: They raise sheep and make sweaters.
Marsha: Yeah, that's not a surprise.
Marsha: Thanks for showing me your family photos. Your family is very different.
Anna: I do feel better. Thanks for listening. I have many more photos!
Marsha: Yeah. Yeah, you do.
Anna: Washington, DC is my new home. But I like remembering my old home, too.
Anna's Family Tree
This is a family tree. Anna tells Marsha about her parents.
Her mother and father are rodeo clowns.
Her father's parents are from Italy. These grandparents speak Italian.
Anna's mother's parents live in California. These grandparents have a farm and raise horses.
Anna's mother's sister is Aunt Lavender. She loves gardening.
Anna's father has a brother. His name is John. Uncle John makes guitars.
Uncle John has a daughter and a son. They are Anna's cousins. They raise sheep.
Anna's brother has two children. They are Anna's niece and nephew.
Listening



Now practice listening to only the audio portion of the conversation.
Speaking



In this video, learn to say the new words. Learn to ask a friend to talk about a problem.
Pronunciation



In this video, you ​learn about how Americans pronounce the word "aunt" in different parts of the country.
New Words
clown

-

n.

someone who often does funny things to make people laugh

different

-

adj.

not ordinary or common; unusual

feel

-

v.

used to describe or ask about someone's physical or mental state

garden

–

v.

to work in a garden; to take care of the plants in a garden

guitar

-

n.

a musical instrument that is held against the front of your body and that has usually six strings which are played with your fingers or with a pick

homesick

-

adj.

sad because you are away from your family and home

joke

-

n.

something said or done to cause laughter

laugh

-

v.

to show that you are happy or that you think something is funny by smiling and making a sound from your throat

make

-

v.

to build, create, or produce (something) by work or effort

park

-

n.

piece of public land in or near a city that is kept free of houses and other buildings and can be used for pleasure and exercise

photo (photograph)

-

n.

a picture made by a camera

raise

-

v.

to keep and take care of (animals or crops)

remind

-

v.

to cause (someone) to remember something

rodeo

-

n.

an event in which people compete at riding horses and bulls, catching animals with ropes, etc.

sheep

-

n.

an animal with a thick woolly coat that is often raised for meat or for its wool and skin

spoon

-

n.

an eating or cooking tool that has a small shallow bowl attached to a handle

sweater

-

n.

a warm usually knitted piece of clothing for the upper part of your body
Family Relationships
aunt

-

n.

the sister of your father or mother or the wife of your uncle

brother

-

n.

a boy or man who has one or both of the same parents as you

cousin

-

n.

a child of your uncle or aunt

daughter

-

n.

a female child

family

-

n.

a group of people who are related to each other

father

-

n.

a male parent

mother

-

n.

a female parent

nephew

-

n.

the son of your brother or sister

niece

-

n.

a daughter of your brother or sister

sister

-

n.

a girl or woman who has one or both of the same parents as you

son

-

n.

a male child

uncle

-

n.

the brother of your father or mother or the husband of your aunt
Activity



Are you from a big family or a small family? Write about two people in your family. What do they do? What do they make? Write about them in the Facebook Comments section below. Then practice with a friend. Click lesson activity to get the printable PDF version. The page opens to a new window.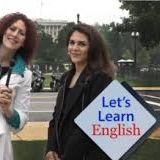 Conversation Lessons

Study all 52 English conversation lessons. Let's Learn English conversation lessons each with a conversation video, a video script, audio listening practice, video speaking practice, video pronunciation practice, a new words section, and a writing activity.

These lessons are for beginners

.
Source: Voice of America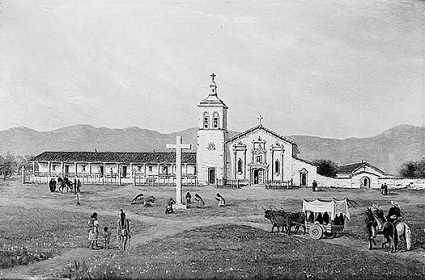 Today in History


(

Advanced

- Reading)



January 12, 1777



Important events which changed history in America and around the world. Read the following story. Use the Online Reference window below to look up any words you do not know. This is great English reading practice.



Picture: Mission Santa Clara de Asís…Santa Clara County, CA. Photocopy of 1861-1885 painting by Oriana Day in de Young Museum, San Francisco. Historic American Buildings Survey/Historic American Engineering Record/Historic American Landscapes Survey. Prints & Photographs Division
The Missions of Old California



On January 12, 1777 Padre Thomas Peña, under the direction of Padre Junípero Serra, officially founded Mission Santa Clara de Asís, the eighth of California's twenty-one missions. Located along El Camino Real, the Royal Road, these missions stretched up the California coast from San Diego to Sonoma, a distance of about seven hundred miles. When the chain was completed each mission lay about one day's journey by horse apart from the next.

Each of the twenty-one missions, founded between 1769 and 1823, was similarly constructed in a quadrangular shape and consisted of a patio, chapel, convento (living quarters for the priests), kitchen, and dormitório. The mission also had craft rooms, storehouses, irrigated fields, orchards, and grazing land. In the fields the missionaries frequently worked side-by-side with their converts who were expected to live apart from unconverted members of their tribe and abide by strict rules or face reprimand, in some cases the lash. Over the years, Native Americans displayed a wide range of reactions to the mission way of life: some embraced it wholeheartedly, some rejected it violently, others endured it for the various material and cultural benefits it bestowed.

Father Serra, a native of Mallorca, Spain, inaugurated the first of the missions, San Diego de Alcala, in 1769, having accompanied Gaspar de Portolá from Mexico during the latter's occupation of Alta California. Before his death in 1784, Serra oversaw the development of the first nine missions in the chain, including Mission San Carlos Borroméo de Carmelo (1770), San Antonio de Padua (1771), San Gabriel Arcángel (1771), San Luis Obispo de Tolosa (1772), San Francisco de Asís (Mission Dolores) (1776), San Juan Capistrano (1776), and San Buenaventura (1782).

With one exception, the rest of the missions were established while Mexico was part of the Spanish empire. They include the Missions Santa Barbara (1786), La Purisíma Concepcion (1787), Santa Cruz (1791), Nuestra Señora de la Soledad (1791), San José (1797), San Juan Bautista (1797), San Miguel de Arcángel (1797), San Fernando Rey de España (1797), San Luis Rey de Francia (1798), Santa Ynéz (1804), San Rafael Arcángel (1817).

The last in the chain, Mission San Francisco de Solano, was founded in 1823, shortly after Mexico declared its independence from Spain. It was launched by a young Basque priest, Padre José Altimira, without the knowledge of his superiors but with support from the civil governor, who wished to halt Russian settlement in Northern California by staking a Mexican land claim via the mission. Just as the priests had always conceived of the missions as a means to convert the Indians and inculcate Spanish culture, the military and civil authorities used them as territorial outposts and aids to trade and colonization.

Many factors contributed to the decline of the California missions. Mexico halted stipends sent to the missions, and forced Spaniards, including the Franciscan padres, from Mexican territory. Soon after independence Mexico's Congress also passed a law of secularization to speed the transfer of mission lands from the Catholic church to the Indians. In actuality, however, most mission assets were quickly confiscated by corrupt local officials and squatters, and by mid-century the California mission system lay in ruin.

In 1851, during the height of the Gold Rush era, the Mission Santa Clara was given to the Jesuits who incorporated it into the University of Santa Clara. Rebuilt in 1779 and 1781, and restored after a flood in 1784, an earthquake in 1818, and a fire in 1926, the tower of Santa Clara still contains an original bell brought to that mission from Spain.

Meeting of Frontiers is a bilingual English-Russian presentation concerning the meeting of the Russian-American frontier in Alaska and the Pacific Northwest. Among its many items is Relacion historica de la vida y apostolicas tareas del venerable padre fray Junipero Serra, y de las misiones que fundó en la California Septentrional, y nuevos establecimientos de Monterey, the 1787 Spanish-language biography of Junipero Serra written by Serra's friend and fellow Franciscan, Francisco Palóu.
Source: Library of Congress
Additional Information
Study Tips


(

Beginner

- Listening)

Avoid Ineffective Study Methods. An audio lesson to help you study English more effectively. The English is

spoken at 75% of normal speed

. Great English study tips.
Click here to visit the lesson page with the written script for this audio program.
Cool Stuff

Confused?



Found a word in Fun Easy English you do not know?


1.

Type

the word

in the Online Reference window


2.

Click

Look it up

(opens to a new window)

Top Hits



Listen to American music while you study.


1.

Click

The

► button




2.

Enjoy

some

great music

Resources



These links contain many English learning resources. Some are for students, some are for teachers. If you find information not on Fun Easy English, please post a comment below, and I will make every effort to add it to the site. Thanks.