Additional Lessons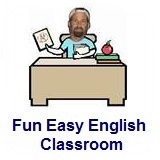 About These Lessons

The following classroom lessons are great for students who want additional conversation, listening, and reading practice. Please post a comment at the bottom of this page in the

Facebook Comments

window with your thoughts about these lessons.
Learning English



(

Beginner

- Listening)



January 13, 2019

- A 30 minute audio broadcast of recent world news. The English is

spoken at 75% of normal speed

. Great listening practice.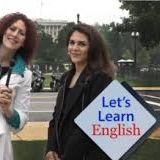 Conversation Lesson 13 - Happy Birthday, William Shakespeare!
(

Beginner

- Conversation, Listening, Reading)

In this lesson It's a Sunday afternoon in Washington, D.C. Anna is bored. She finds something interesting to do when she hears music playing.
Lesson Video



Watch the video and then do the activities on this page.
Video Script



Anna: Hello! In Washington D.C. there are many things to do on a Sunday afternoon. I like to exercise. I like to shop. I like to garden. But today I feel bored. When I feel bored I always look for something unusual to do! I hear music. Let's go see! What is going on here?
Rebecca: It's a big birthday party for the writer William Shakespeare.
Anna: This is a party for William Shakespeare?
Rebecca: Yes!
Anna: Awesome!
Rebecca: Awesome!
Anna: This is a drum band. I never listen to a drum band. But today I am listening to a drum band because it's Shakespeare's birthday!
Anna: This is a puppet show. I never watch puppet shows. But today I am watching a puppet show because it's Shakespeare's birthday!
Anna: My clothes are usual. His clothes are unusual.
Anna: In Washington, D.C. seeing a politician or even the President is usual. Seeing the Queen of England is very unusual! Your majesty!
Anna: This is sword fighting. I never sword fight. But today I am sword fighting because it's Shakespeare's birthday!
Anna: There are many things to do on a Sunday in Washington, D.C. -- some usual, some unusual.
Anna: Today, I am not bored because … it is William Shakespeare's birthday!
Listening



Now practice listening to only the audio portion of the conversation.
Speaking



In this video, learn to say the new words. Learn to talk about cause and effect.
Pronunciation



In this video, you ​learn about what happens when two words with same sound come together.
New Words
band

–

n.

a usually small group of musicians who play popular music together

because

–

conj.

for the reason that

birthday

-

n.

the day when someone was born or the anniversary of that day

bored

–

adj.

tired and annoyed by too much of the same thing; not interested

drum

-

n.

a musical instrument that is made with a thin layer of skin or plastic stretched over the end of a round frame and that is played by hitting the skin or plastic with sticks or with your hands

exercise

–

v.

physical activity that is done in order to become stronger and healthier

fight

-

v.

to use weapons or physical force to try to hurt someone, to defeat an enemy, etc. or to struggle in battle or physical combat

party

-

n.

a social event in which entertainment, food, and drinks are provided

politician

-

n.

someone who is active in government usually as an elected official

President

-

n.

the head of the government in some countries

puppet

-

n.

a doll that is moved by putting your hand inside it or by pulling strings or wires that are attached to it

Queen

-

n.

a woman who rules a country and who usually inherits her position and rules for life

shop

–

v.

to visit places where goods are sold in order to look at and buy things

show

-

n.

a performance in a theater that usually includes singing and dancing

sword

-

n.

a weapon with a long metal blade that has a sharp point and edge

unusual

-

adj.

different or strange in a way that attracts attention

usual

–

adj.

done, found, or used most of the time or in most cases, or normal or regular

watch

-

v.

to look at (someone or something) for an amount of time and pay attention to what is happening
Activity



What do you usually do on a Sunday afternoon? (Or on your day off.)​ Write about how frequently you do different activities in the Facebook Comments section below. Then practice with a friend. Click lesson activity to get the printable PDF version. The page opens to a new window.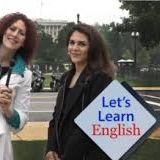 Conversation Lessons

Study all 52 English conversation lessons. Let's Learn English conversation lessons each with a conversation video, a video script, audio listening practice, video speaking practice, video pronunciation practice, a new words section, and a writing activity.

These lessons are for beginners

.
Source: Voice of America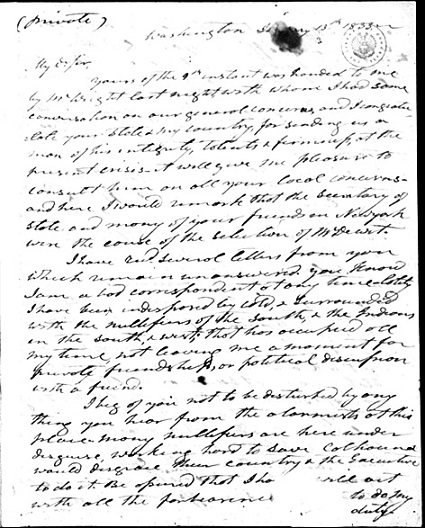 Today in History


(

Advanced

- Reading)



January 13, 1833



Important events which changed history in America and around the world. Read the following story. Use the Online Reference window below to look up any words you do not know. This is great English reading practice.



Picture: Letter, Andrew Jackson to Martin Van Buren discussing the nullification crisis, January 13, 1833. (Martin Van Buren Papers). Words and Deeds in American History: Selected Documents Celebrating the Manuscript Division's First 100 Years. Manuscript Division
The Nullification Crisis



On January 13, 1833, President Andrew Jackson wrote Vice President Martin Van Buren expressing his opposition to South Carolina's defiance of federal authority. He closed with the assertion, "nothing must be permitted to weaken our government at home or abroad."

The Nullification Crisis of 1832-33 erupted the previous November when South Carolina nullified a federal tariff that favored Northern manufacturing over Southern agriculture. Complicating matters, Jackson's vice president at that time, South Carolina native John C. Calhoun, firmly believed states had the right to overrule federal laws. South Carolinians agreed and planned to use armed force to prevent duty collection in the state after February 1, 1833.

Calhoun developed the idea of nullification—first put forth in the Virginia and Kentucky Resolutions of 1798—as a strategy for the South to preserve slavery in the face of a Northern majority in Congress. His support of the measure, disclosed midway through his term, was not shared by President Jackson who feared nullification's power to split the Union. This difference of opinion permanently distanced the president and vice president.

The crisis was resolved without bloodshed in March 1833. Henry Clay and John C. Calhoun, who had left the vice presidency at the end of 1832 to serve South Carolina in the Senate, drafted a reduced tariff agreement that pacified South Carolina while allowing the Federal government to stand firm. On December 10, 1832, Jackson responded to South Carolina's recalcitrance with a Proclamation to the people of South Carolina. Considered the greatest state paper of the era, Jackson promised to uphold the federal tariff and warned "disunion by armed force is treason."

Calhoun represented his home state until his death in 1850. His final years in office were spent trying to unite the South against attacks on slavery.
Source: Library of Congress