Classroom
Today

Think about why you
are studying English



Today in the Fun Easy English classroom you will think about why you are studying English. A basic knowledge of English has become a requirement in a number of fields, occupations, and professions. Although many people learn English for their careers, still many learn English for other reasons. Why are you studying English?

Hey if you cannot understand something on this page,


then use the Fun Easy English dictionary (opens in a new window)
Jan Feb Mar Apr May Jun Jul Aug Sep Oct Nov Dec
1 2 3 4 5 6 7 8 9 10 11 12 13 14 15 16 17 18 19 20 21 22 23 24 25 26 27 28 29 30 31
Video: English Language
Video Script: English Language



Hi. In the classroom today you will learn a few facts about the English language.

Approximately 375 million people speak English as their first language.

English today is probably the third largest language by number of native speakers, after Mandarin Chinese and Spanish.

Including second language English speakers, the total number of English speakers ranges from 500 million to over one billion people depending on the level of the speaker.

The countries with the highest populations of native English speakers are
United States with 215 million
United Kingdom with 58 million
Canada with 18.2 million
Australia with 15.5 million
Ireland with 3.8 million
South Africa with 3.7 million
New Zealand with 3.5 million
India has the largest number of English as a Second Language speakers.

Following India is the People's Republic of China.

Modern English is the main international language in communications, science, business, aviation, entertainment, radio, and diplomacy.

A basic knowledge of English has become a requirement in a number of fields, occupations, and professions.

Although many people learn English for their careers, still many learn English for other reasons.

Why are you studying English?

Until next time.

From YOUR Teacher:

Why am I studying English?



Even though I am a native English speaker with a standard American English accent, I continue to study different aspects of the English language. English teaching is my career and it is important to know as much as possible in order to be an effective teacher. I especially like to study English accents from different regions throughout the world. I think English pronunciation and accent reduction is most important for English language students. Understanding idioms and slang are also important and fun to learn.

I am also a language student and in the past studied Hebrew, French, Spanish, and now Japanese. In the future I am hoping to find time to study Hindi, Chinese, Arabic, and Korean. Maybe even a few others. Language study is fascinating and a great way to meet new people.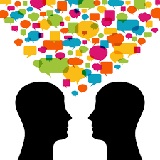 Survey:

Why are you studying English?



English is the most studied language in the world. Everyone has different reasons for studying English.
Choose your reason for studying English on the survey below
and

post a comment at the bottom of this page

.
Additional Lessons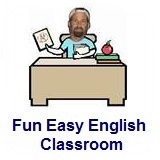 About These Lessons

The following classroom lessons are great for students who want additional conversation, listening, and reading practice. Please post a comment at the bottom of this page in the

Facebook Comments

window with your thoughts about these lessons.
Learning English



(

Beginner

- Listening)



January 4, 2019

- A 30 minute audio broadcast of recent world news. The English is

spoken at 75% of normal speed

. Great listening practice.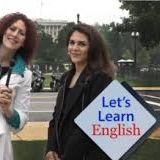 Conversation Lesson 4 - What Is It?
(

Beginner

- Conversation, Listening, Reading)

Anna is new to Washington, DC. She meets her friends to go out for coffee. Anna has many things in her bag.
Lesson Video



Watch the video and then do the activities on this page.
Video Script



Anna: Pete, hi! Hi, we are here!
Pete: Hi, Anna! Hi, Marsha!
Anna: Hi!
Pete: How are you two?
Marsha: I am great!
Anna: You know, Pete, I am new to D.C. The city is big.
Pete: Yeah. But you learn a little more every day. How's the new apartment?
Anna: The new apartment is great! Let's get coffee!
Marsha: Anna, do you have a pen?
Anna: Yes. I have a pen in my bag.
Anna: I have a …
Pete: It is not a pen. It is a book. It is a big book.
Anna: Yes. Yes it is, Pete. I know I have a pen, though…
Anna: I have a ....
Marsha: It is not a pen, Anna ... a toy?
Anna: I have a ....
Pete: And it is a pillow!
Anna: Pete, Marsha, I know I have a pen.
Marsha: Anna, it is a map.
Pete: Why do you have a map of the world?
Anna: Pete, Marsha. Now I know I have a pen.
Pete: And now you have a lamp.
Marsha: Anna.
Anna: I have a pen! Let's get coffee!
Listening



Now practice listening to only the audio portion of the conversation.
Speaking



Listen and practice saying the new words for this lesson. Practice the grammar and question structures.
Pronunciation



Often English speakers do not say the word "and" carefully. Watch the video to learn about this reduced form in American English.
New Words
bag

-

n.

a soft container used to hold money and other small things

big

-

adj.

large in size

book

-

n.

a set of printed sheets of paper that are held together inside a cover or a long written work

coffee

-

n.

a dark brown drink made from ground coffee beans and boiled water

lamp

-

n.

a device that produces light

little

-

adj.

small in size

map

-

n.

a picture or chart that shows the rivers, mountains, streets, etc., in a particular area

pen

-

n.

a writing instrument that uses ink

pillow

-

n.

a bag filled with soft material that is used as a cushion usually for the head of a person who is lying down

toy

-

n.

something a child plays with

world

-

n.

the earth and all the people and things on it
Activity



Do the activity and practice writing the names of common objects. Click lesson activity to get the printable PDF version. The page opens to a new window.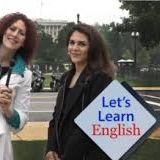 Conversation Lessons

Study all 52 English conversation lessons. Let's Learn English conversation lessons each with a conversation video, a video script, audio listening practice, video speaking practice, video pronunciation practice, a new words section, and a writing activity.

These lessons are for beginners

.
Source: Voice of America
Today in History


(

Advanced

- Reading)



January 4, 1948



Important events which changed history in America and around the world. Read the following story. Use the Online Reference window below to look up any words you do not know. This is great English reading practice.



Picture: Rangoon–Elephant About to Lift Large Beam. William Henry Jackson, photographer, March 1895. World's Transportation Commission. Prints & Photographs Division
Burma



On January 4, 1948, the British colony of Burma, now Myanmar, became an independent nation after more than sixty years of colonial rule. England had established control of the country in 1885, designating Burma a province of India. Ten years later, the U.S.-based World's Transportation Commission, organized and led by American railroad publicist Joseph Gladding Pangborn toured the country. The Commission sought to gather information about transportation systems for the Field Columbian Museum in Chicago. The Commission included photographer William Henry Jackson, who visited Burma in the course of a two-year journey (1884-96) through North Africa, Asia, Australia, and Oceania.

Myanmar is located on the eastern coasts of the Bay of Bengal and the Andaman Sea in Southeast Asia. Thailand (formerly Siam), Laos, China, and India border Myanmar. Much of the terrain is mountainous and heavily forested. Myanmar's rich natural resources include silver, copper, lead, zinc, tungsten, and tin. Tropical rain forests support a wide variety of animal life, including tigers and elephants.

William Henry Jackson's photographs of Burma capture everyday life in this predominantly Buddhist country. Jackson photographed everything from men walking on a street and a woman selling refreshments at a railway station, to the emblems of segregation. He also documented the region's impressive architecture. One photo shows the photographer riding in a railroad trolley car.
Source: Library of Congress
Additional Information
Study Tips


(

Beginner

- Listening)

Avoid Ineffective Study Methods. An audio lesson to help you study English more effectively. The English is

spoken at 75% of normal speed

. Great English study tips.
Click here to visit the lesson page with the written script for this audio program.
Cool Stuff

Confused?



Found a word in Fun Easy English you do not know?


1.

Type

the word

in the Online Reference window


2.

Click

Look it up

(opens to a new window)

Top Hits



Listen to American music while you study.


1.

Click

The

► button




2.

Enjoy

some

great music

Resources



These links contain many English learning resources. Some are for students, some are for teachers. If you find information not on Fun Easy English, please post a comment below, and I will make every effort to add it to the site. Thanks.