Classroom
Today

Decide if English should
be the world language



Today in the Fun Easy English classroom you will decide if English should be the world language. Many people already think English is the world language. Watch the video below and then you decide if you think this is true.

Hey if you cannot understand something on this page,


then use the Fun Easy English dictionary (opens in a new window)
Jan Feb Mar Apr May Jun Jul Aug Sep Oct Nov Dec
1 2 3 4 5 6 7 8 9 10 11 12 13 14 15 16 17 18 19 20 21 22 23 24 25 26 27 28 29 30 31
Video: World English
Video Script: World English



Hi. In the classroom today you will decide if English should be the world language.

Approximately 375 million people speak English as their first language.

English today is probably the third largest language by number of native speakers, after Mandarin Chinese and Spanish.

Modern English is the main international language in communications, science, business, aviation, entertainment, radio, and diplomacy.

A basic knowledge of English has become a requirement in a number of fields, occupations, and professions.

Many people think English is already the world language.

Still others believe it will become the world language in the future.

Some people think English should not be the world language because many countries and cultures will no longer use or speak their languages.

It is difficult to know if English should be the world language.

This will be a topic of discussion for many years to come.

Should English be the world language?

Until next time.

From YOUR Teacher:

My Thoughts About English



English is the most studied language in the world. As time goes on English will become even more important and a good way for people throughout the world to communicate on at least a basic level. Even though I really love the English language I also know the importance for people of different cultures to retain their identities and speak their native languages. The diversity of people, cultures, and languages is what makes this world such an interesting place.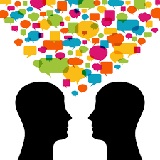 Survey:

Should English be the world language?



Many people believe English should be the world language.
Decide if English should be the world language on the survey below
and

post a comment at the bottom of this page

.
Additional Lessons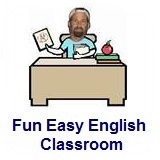 About These Lessons

The following classroom lessons are great for students who want additional conversation, listening, and reading practice. Please post a comment at the bottom of this page in the

Facebook Comments

window with your thoughts about these lessons.
Learning English



(

Beginner

- Listening)



January 3, 2019

- A 30 minute audio broadcast of recent world news. The English is

spoken at 75% of normal speed

. Great listening practice.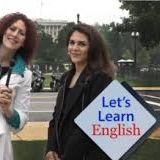 Conversation Lesson 3 - I'm Here!
(

Beginner

- Conversation, Listening, Reading)

In this lesson Anna is in her new apartment. She wants to cook dinner. She tries to call Marsha for help but calls the wrong number. Marsha tells Anna the location of the supermarket.
Lesson Video



Watch the video and then do the activities on this page.
Video Script



Anna: I am in my new apartment! Great!
I live with Marsha. We're roommates.
I want to cook dinner. Oh! Hmmm. Is there a supermarket near here?
Marsha knows. Marsha's work number is 555-8986.
Man: Hello.
Anna: Hello. Is this Marsha? It is Anna.
Man: I am sorry. You have the wrong number.
Anna: Oh. Is this 555-8986?
Man: No. This is 555-8689.
Anna: Oh. Excuse me!
Man: Okay. 'Bye.
Anna: One more time. 555-8986. Please be Marsha.
Marsha: Hello. This is Marsha.
Anna: Yes, Marsha. I want to cook dinner.
Marsha: Excuse me? Anna? Is that you?
Anna: Oh, yes. I am here!
Marsha: Good. You are there.
Anna: I want to find a supermarket.
Marsha: Oh, okay. The supermarket is at 1500 Irving Street. It is near the apartment.
Anna: Great! Goodbye!
Marsha: Goodbye, Anna.
(Later)
Anna: There is a big supermarket on our street. And Marsha says I am a good cook! Until next time! Bye!
Listening



Now practice listening to only the audio portion of the conversation.
Speaking



Listen to the teacher in the video. Use your computer or phone to record yourself saying the words. Use this video to practice the new words for this lesson, learn how to answer the telephone, and practice asking for someone.
Pronunciation



Practice shortened sounds with the verb BE using this video.
New Words
cook

-

v.

to prepare (food) for eating especially by using heat

dinner

-

n.

the main meal of the day

excuse

-

v.

to forgive someone for making a mistake or doing something wrong

find

-

v.

to get or discover something or someone that you are looking for

here

-

adv.

in this place or at this location

live

-

v.

to have a home in a specified place

near

-

adv.

close to something or someone

sorry

-

adj.

feeling sorrow or regret

supermarket

-

n.

a store where customers can buy a variety of foods and household items

there

-

adv.

in that place or at that location

want

-

v.

to desire or wish for something

wrong

-

adj.

not suitable or appropriate for a particular purpose, situation, or person
Activity



Do the activity and practice writing the names and addresses of friends or classmates. Click lesson activity to get the printable PDF version. The page opens to a new window.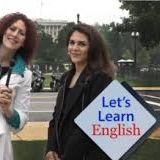 Conversation Lessons

Study all 52 English conversation lessons. Let's Learn English conversation lessons each with a conversation video, a video script, audio listening practice, video speaking practice, video pronunciation practice, a new words section, and a writing activity.

These lessons are for beginners

.
Source: Voice of America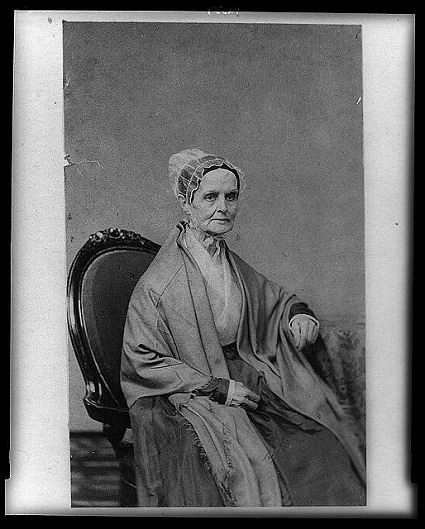 Today in History


(

Advanced

- Reading)



January 3, 1793



Important events which changed history in America and around the world. Read the following story. Use the Online Reference window below to look up any words you do not know. This is great English reading practice.



Picture: [Lucretia (Coffin) Mott, three-quarter length portrait, seated, facing right]. ca. 1860-1880. Votes for Women–The Struggle for Women's Suffrage: Selected Images from the Collections of the Library of Congress. Prints & Photographs Division
Lucretia Mott



Political and social reformer Lucretia Coffin Mott was born on January 3, 1793 in Nantucket, Massachusetts to a Quaker family. Inspired by a father who encouraged his daughters to be useful and a mother who was active in business affairs, Lucretia Mott worked as a tireless advocate for the oppressed while also raising six children. Over the course of her lifetime, Mott actively participated in many of the reform movements of the day including abolition, temperance, and pacifism. She also played a vital role in organizing the 1848 Women's Rights Convention at Seneca Falls, which launched the woman suffrage movement in America.

Mott's commitment to women's equality was strengthened by her experience as a student and teacher at the boarding school adjacent to the Nine Partners Quaker meeting house in Duchess County, New York. While at the Quaker school, she was struck by the fact that "the charge for the education of girls was the same as that for boys, and that when they became teachers, women received but half as much as men for their services…The injustice of this was so apparent," Mott recalled in an autobiographical sketch, "that I early resolved to claim for my sex all that an impartial Creator had bestowed."2 Nine Partners was also where she met her future husband, fellow teacher James Mott.

Lucretia Coffin and James Mott were married in 1811 in Philadelphia, where the Coffins had moved two years before. Philadelphia and environs became the growing Mott family's permanent home. Both Lucretia Mott and her husband were ardent abolitionists as well as active members of the Religious Society of Friends. Her abilities as a speaker resulted in her 1821 recognition as a minister, and she joined the more radical Hicksite branch of Quakers when the Society split at the end of the decade. By the 1830s, Mott traveled widely, preaching against war, intemperance, and slavery while also serving as clerk of the influential Women's Yearly Meeting. Mott founded the Philadelphia Female Anti-Slavery Society in 1833, and it was during that group's 1838 convention that anti-abolitionist riots led to the widely-publicized burning of Pennsylvania Hall. After passage of the Fugitive Slave Law of 1850, the Mott home became a station on the underground railroad.

Mott met Elizabeth Cady Stanton at the 1840 World Anti-Slavery Conference in London. Though sent as official delegates to the convention, six American women including Mott and Stanton were denied the right to participate because of their gender. The two soon agreed that the status of women must be advanced.

In 1848, Mott, Stanton, and three other women launched the woman's rights movement in the United States by calling the Seneca Falls Convention, which met over two days in July in New York state. The Declaration of Sentiments signed there by Stanton, Mott, and other participants called for the extension of basic civil rights to women. These included the right to vote and the right to hold property.

Following the Civil War and the passage of the Fourteenth and Fifteenth Amendments, Mott joined the National Woman Suffrage Association (NWSA), formed in 1869. On the centennial of American independence, leaders of the NWSA renewed their call for women's equality with their 1876 Declaration and Protest of the Women of the United States. The document called for impeachment of United States leaders on the grounds that they taxed women without representation and denied women trial by a jury of peers.

Though women did not win the right to vote until 1920, a full forty years after Lucretia Mott's death in 1880, she lived to see fulfillment of several demands set forth in the Declaration of Sentiments. By 1880, for example, most states granted a woman the right to hold property independent of her husband, and several state and private colleges admitted women, including the co-educational Swarthmore College, which Mott herself helped to establish.
Source: Library of Congress
Additional Information
Study Tips


(

Beginner

- Listening)

Avoid Ineffective Study Methods. An audio lesson to help you study English more effectively. The English is

spoken at 75% of normal speed

. Great English study tips.
Click here to visit the lesson page with the written script for this audio program.
Cool Stuff

Confused?



Found a word in Fun Easy English you do not know?


1.

Type

the word

in the Online Reference window


2.

Click

Look it up

(opens to a new window)

Top Hits



Listen to American music while you study.


1.

Click

The

► button




2.

Enjoy

some

great music

Resources



These links contain many English learning resources. Some are for students, some are for teachers. If you find information not on Fun Easy English, please post a comment below, and I will make every effort to add it to the site. Thanks.