Classroom
Today

Decide what you like
the most about English



Today in the Fun Easy English classroom you will decide what you like the most about English. People study English for many different reasons. Many people study for their careers or English class while others study to travel abroad. After studying English for awhile, most students find something they really like about the language. What do you like the most about English?

Hey if you cannot understand something on this page,


then use the Fun Easy English dictionary (opens in a new window)
Jan Feb Mar Apr May Jun Jul Aug Sep Oct Nov Dec
1 2 3 4 5 6 7 8 9 10 11 12 13 14 15 16 17 18 19 20 21 22 23 24 25 26 27 28 29 30 31
Video: English Language
Video Script: English Language



Hi. In the classroom today you will decide what you like the most about the English language.

People study English for many different reasons.

Many people study for their careers or English class while others study to travel abroad.

Still other people study simply for fun or because they want to understand English movies, television, or radio.

After studying English for awhile, most students find something they really like about the language.

Some students like idioms or slang, while others like pronunciation, reductions, or even grammar.

English can be really fun if you study with a good attitude.

What do you like the most about English?

Until next time.

From YOUR Teacher:

What do I LIKE the most about English?



Definitely pronunciation. Teaching English pronunciation is a lot of fun and as I wrote in the January 4 lesson, I really like studying accents from different regions throughout the world. Why is pronunciation so important? Even if you know a lot of vocabulary and your grammar is perfect, if your English pronunciation is awful, nobody will understand you.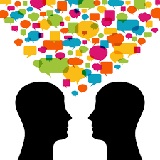 Survey:

What do you LIKE the most about English?



English has many good points and is a really fun language to learn.
Choose what you like the most about English on the survey below
and

post a comment at the bottom of this page

.