Classroom
Today

Decide what you like
the most about English



Today in the Fun Easy English classroom you will decide what you like the most about English. People study English for many different reasons. Many people study for their careers or English class while others study to travel abroad. After studying English for awhile, most students find something they really like about the language. What do you like the most about English?

Hey if you cannot understand something on this page,


then use the Fun Easy English dictionary (opens in a new window)
Jan Feb Mar Apr May Jun Jul Aug Sep Oct Nov Dec
1 2 3 4 5 6 7 8 9 10 11 12 13 14 15 16 17 18 19 20 21 22 23 24 25 26 27 28 29 30 31
Video: English Language
Video Script: English Language



Hi. In the classroom today you will decide what you like the most about the English language.

People study English for many different reasons.

Many people study for their careers or English class while others study to travel abroad.

Still other people study simply for fun or because they want to understand English movies, television, or radio.

After studying English for awhile, most students find something they really like about the language.

Some students like idioms or slang, while others like pronunciation, reductions, or even grammar.

English can be really fun if you study with a good attitude.

What do you like the most about English?

Until next time.

From YOUR Teacher:

What do I LIKE the most about English?



Definitely pronunciation. Teaching English pronunciation is a lot of fun and as I wrote in the January 4 lesson, I really like studying accents from different regions throughout the world. Why is pronunciation so important? Even if you know a lot of vocabulary and your grammar is perfect, if your English pronunciation is awful, nobody will understand you.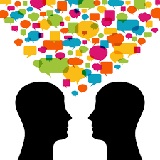 Survey:

What do you LIKE the most about English?



English has many good points and is a really fun language to learn.
Choose what you like the most about English on the survey below
and

post a comment at the bottom of this page

.
Additional Lessons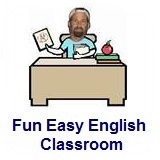 About These Lessons

The following classroom lessons are great for students who want additional conversation, listening, and reading practice. Please post a comment at the bottom of this page in the

Facebook Comments

window with your thoughts about these lessons.
Learning English



(

Beginner

- Listening)



January 5, 2019

- A 30 minute audio broadcast of recent world news. The English is

spoken at 75% of normal speed

. Great listening practice.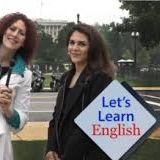 Conversation Lesson 5 - Where Are You?
(

Beginner

- Conversation, Listening, Reading)

In this lesson Anna visits Marsha at a friend's house. Anna and Marsha see many rooms in the house. They talk about what people do in each room.
Lesson Video



Watch the video and then do the activities on this page.
Video Script



Anna: Hello, everyone! Today my friend Marsha is at her friend's house. She says it is beautiful. I want to see this house! Here we are!
Anna: Marsha, I am in the kitchen! It is a beautiful kitchen!
Marsha: It is beautiful. We cook in the kitchen.
Anna: I eat in the kitchen.
Marsha: We relax in the living room.
Anna: I relax in the living room. Marsha, let's go upstairs!
Marsha: Anna? Where are you?
Anna: Marsha, I am in the bathroom! I wash in the bathroom.
Marsha: I am in the bedroom. We sleep in the bedroom.
Anna: I sleep in the bedroom!
Listening



Now practice listening to only the audio portion of the conversation.
Speaking



Watch the video and practice talking about locations. Practice talking about the rooms in a house with a friend.
Pronunciation



Learn two different ways to ask questions in this video.
New Words
bathroom

-

n.

a room with a sink and toilet and usually a bathtub or shower

beautiful

-

adj.

very good or pleasing; having beauty

bedroom

-

n.

a room used for sleeping

eat

-

v.

to take food into your mouth and swallow it

house

-

n.

a building in which a family lives

kitchen

-

n.

a room in which food is cooked

living room

-

n.

a room in a house for general family use

relax

-

v.

to spend time resting or doing something enjoyable

sleep

-

v.

to rest your mind and body by closing your eyes

upstairs

-

adv.

on or to a higher floor of a building

wash

-

v.

to clean (something) with water and usually soap
Activity



What are some of the rooms in your house? Write about it in the Facebook Comments section below. Tell us what you do in the rooms. Do the activity and practice writing the names of rooms in a house. Click lesson activity to get the printable PDF version. The page opens to a new window.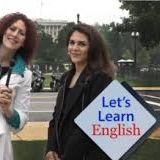 Conversation Lessons

Study all 52 English conversation lessons. Let's Learn English conversation lessons each with a conversation video, a video script, audio listening practice, video speaking practice, video pronunciation practice, a new words section, and a writing activity.

These lessons are for beginners

.
Source: Voice of America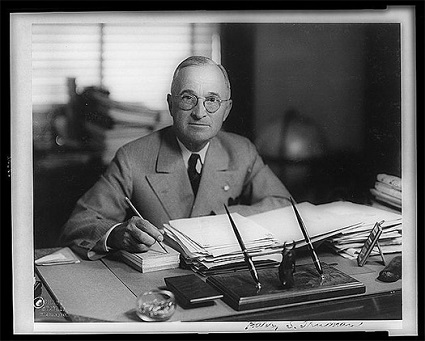 Today in History


(

Advanced

- Reading)



January 5, 1949



Important events which changed history in America and around the world. Read the following story. Use the Online Reference window below to look up any words you do not know. This is great English reading practice.



Picture: Harry Truman. Chase-Statler, Apr. 19, 1945. Chronological List of Presidents, First Ladies, and Vice Presidents of the United States: Selected Images From the Collections of the Library of Congress. Prints & Photographs Division
Harry S. Truman



On January 5, 1949, President Harry Truman used his State of the Union address to recommend measures including national health insurance, raising the minimum wage, strengthening the position of organized labor, and guaranteeing the civil rights of all Americans. Referencing the popular "New Deal" programs of his predecessor, Franklin Delano Roosevelt, Truman styled his reform package the "Fair Deal."

A few months earlier the president's career seemed over. Political pundits of the time agreed that Truman needed a miracle to win his 1948 bid for reelection against the popular Republican governor from New York, Thomas E. Dewey. Adding to the incumbent's troubles, a revived Progressive Party attempted to attract left-leaning Democrats, while segregationist "Dixiecrats" broke with the Democrats to run South Carolina Governor Strom Thurmond for president. Responding to the competition,
Truman embarked on a campaign tour by train, delivering "whistle-stop" speeches to thousands of voters in small communities throughout the United States. This tactic proved effective, and President Truman was reelected by a slim margin. Still, the Chicago Daily Tribune was so confident of the president's defeat it went to press with the November 3, 1948 headline "DEWEY DEFEATS TRUMAN."
Truman had begun to push for Fair Deal-type legislation following the end of World War II in 1945. However, Congress resisted his plans for the extension of federal social and economic programs. Concerned about the transition from a wartime to a peacetime economy, lawmakers ultimately accepted the role of government in maintaining full employment and stabilizing the economy, but rejected Truman's proposals for national health insurance, educational aid, and federally-supported housing programs. Even after Truman's successful 1948 campaign, the mandate for expanded social programs remained weak. The minimum wage rose and social security coverage broadened, but few Fair Deal programs were enacted.

On July 26, 1948, President Harry Truman issued two executive orders. One instituted fair employment practices in the civilian agencies of the federal government; the other provided for "equality of treatment and opportunity in the armed services without regard to race, color, religion, or national origin."

During Truman's presidency, concern over the potential spread of communism and the growing influence of the Soviet Union underlay much of his Administration's foreign policy. In what became known as the Truman Doctrine (1947), the president pledged U.S. support of "…free peoples who are resisting attempted subjugation by armed minorities or by outside pressures." The United States inaugurated the massive European aid package known as the Marshall Plan in 1948, and led in the formation of the North Atlantic Treaty Organization (NATO) (1949). These and other related measures became known in U.S. foreign policy terms as the "containment" of the potential spread of communism to other parts of the world.

At home, the president was at the forefront of the anti-communist hysteria that characterized the early 1950s. The same week he announced his containment policy, Truman ordered the loyalty of three million federal workers investigated. Yet, the president displayed a very real commitment to protecting the civil rights of African-Americans. When Congress failed to respond to his repeated calls for civil rights legislation, Truman used executive powers to establish the President's Committee on Civil Rights. The Committee's recommendations included anti-segregation laws, voting rights legislation, and creation of a civil rights unit within the Department of Justice. Truman left office in 1953, but his committee's report became a blueprint for the Civil Rights movement of the 1950s and 1960s.
Source: Library of Congress
Additional Information
Study Tips


(

Beginner

- Listening)

Avoid Ineffective Study Methods. An audio lesson to help you study English more effectively. The English is

spoken at 75% of normal speed

. Great English study tips.
Click here to visit the lesson page with the written script for this audio program.
Cool Stuff

Confused?



Found a word in Fun Easy English you do not know?


1.

Type

the word

in the Online Reference window


2.

Click

Look it up

(opens to a new window)

Top Hits



Listen to American music while you study.


1.

Click

The

► button




2.

Enjoy

some

great music

Resources



These links contain many English learning resources. Some are for students, some are for teachers. If you find information not on Fun Easy English, please post a comment below, and I will make every effort to add it to the site. Thanks.